Spooky season is upon us which means it's time to break out the decor — and the craft box. If you're looking for a fun way to decorate for Halloween that doubles as a kid-friendly project, try one of these Halloween crafts for kids of all ages, from toddlers to preschoolers, and even big kids.
Many of the Halloween crafts on this list can be done with things you have in your or around house: Think coffee filters, toilet paper rolls, extra mason jars, and rocks. Others may require a quick trip to the craft store (or a quick trip online) to buy something inexpensive, like felt or a flower pot. Nothing here is too scary, because one of the tenants of successful crafting is that kids keep their eyes open the whole time.
Whether it's sprinkling vinegar onto DIY baking soda paint to get a fizzy effect, drenching coffee filters, pouring salt onto glue or smearing their hands with black paint — look, I'm sorry but the final product is so cute — these Halloween crafts for kids are interactive, fun, and a great way to spend an afternoon. Read on to find out how to give your house (or at least your refrigerator door) a festive flourish that's still more fun than scary.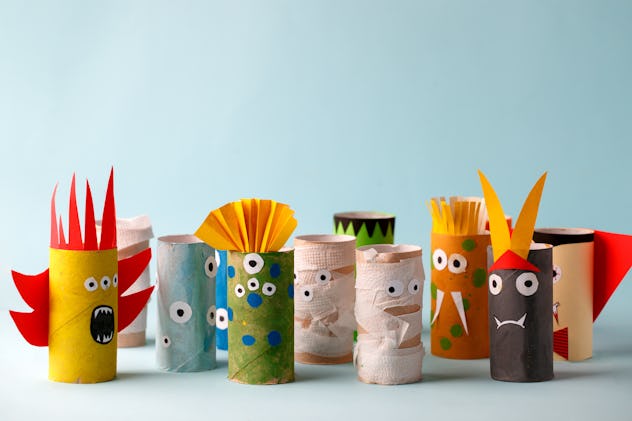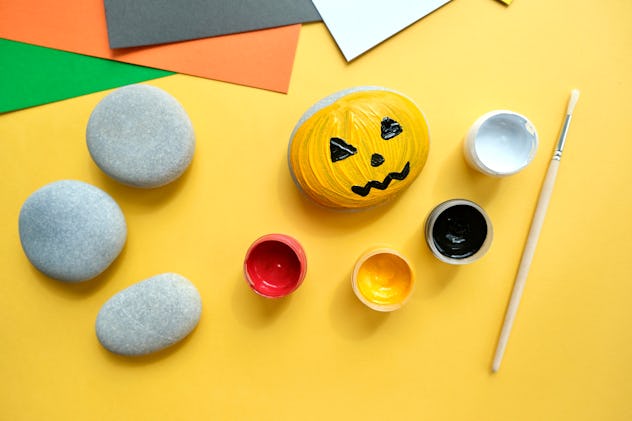 If you're decorating for a party, adding spooky touches to your house, or looking for a way to fill a rainy afternoon with a toddler, these Halloween crafts are fun for all ages.