Prayers made on Thursdays often hold a special significance in various religious traditions. Thursday is associated with expansion and growth and is often seen as a day of spiritual elevation and positive change. An encouragement Thursday morning prayer is crucial as it helps people find solace and strength to face the day's challenges.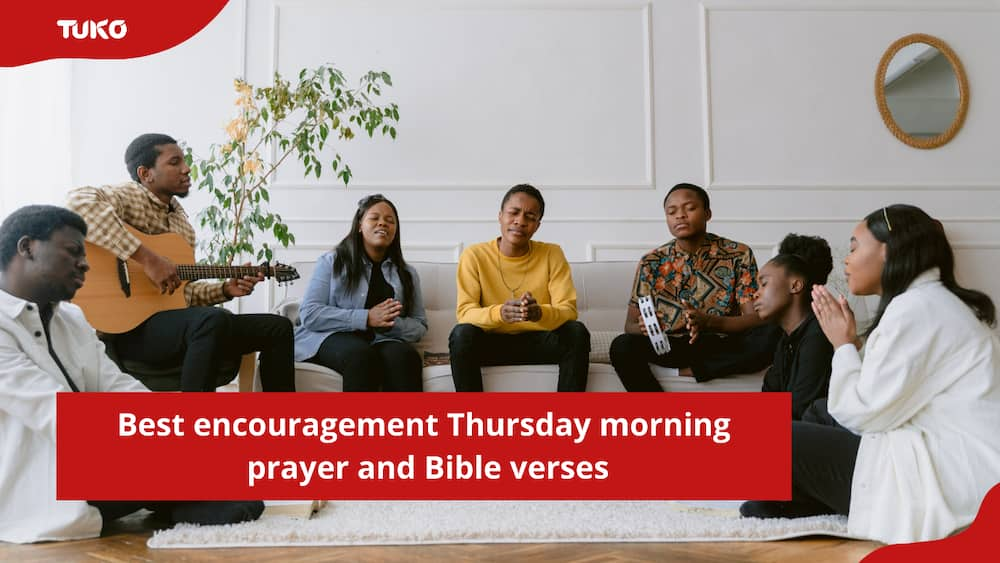 Prayer is an important aspect of human life as it helps guide and connect you spiritually as well as give you inner peace. Prayers also provide a space to express gratitude, seek guidance, and find strength in challenging moments in life. Prayers also help people navigate the complexities of existence with a sense of purpose and hope.
Encouragement Thursday morning prayer
Thursday prayers and blessings are an integral part of our spiritual journey, offering a source of inspiration and guidance. Here are some of the powerful Thursday prayers and blessings images you can use as a guide when praying.
Thursday morning prayer for yourself
Praying for yourself is very powerful. It is crucial for every born-again Christian to constantly practice Thursday morning blessings and prayers. Here are a few samples of morning prayers you can make on this particular day.
Father, I thank You for this beautiful morning in which You have breathed life into my nostrils once again. I praise You for the many blessings You have so generously bestowed upon me. Proverbs 3:5-6
Dear Father, this Thursday morning, I commit my day to you. Enable me to understand that there is nothing that will happen today that You can't help me get through. Amen. Proverbs 16:3
Dear Lord, I am grateful for all the blessings and challenges in my life. Help me to have a heart of gratitude in every situation, knowing that Your will is always at work. Amen. 1 Thessalonians 5:18
Help me to keep coming to you, Lord, instead of seeking things of the world to help with my anxiety. For the spirit God gave us does not make us timid but gives us power, love and self-discipline. (2 Timothy 1:7) Help me remove the spirit of timidity today.
Heavenly Father, I trust in Your providence to meet all my needs. May I find comfort in the knowledge that You supply abundantly from Your riches? Amen. Philippians 4:19
Heavenly Father, this Thursday, I come before You, seeking strength and courage. Grant me the fortitude to face challenges and the courage to overcome them. May Your power be my source of strength, and may I find confidence in Your promises. Amen. Isaiah 41:10
Heavenly Father, when I am discouraged or fearful, remind me that You are with me. Strengthen my faith and provide the encouragement I need. Isaiah 41:10
Lord, I seek Your protection today. Send Your angels to watch over me in all my endeavours and keep me safe from harm. I know you are with me because you said so; therefore, I trust that wherever I go, you are closer than a brother. Amen. Psalm 91:11
My God, help me not to be anxious about anything, but in every situation, by prayer and petition, with great Thanksgiving, help me present my requests to you. Amen. Philippians 4:6
Lord, grant me wisdom and a servant's heart in my ministry. Help me use the gifts You've given me to serve others and bring glory to Your name. As I leave to serve you, help me represent you well in the place of my ministry so that you will be glorified through me. Amen. 1 Peter 4:10
Dear God, I humbly receive Your blessings. May Your face shine upon me, and may I experience Your grace and peace in all aspects of my life. As I walk out of this house this Thursday morning, I believe that Your blessing is working in and with me for your glory's sake. Amen. Numbers 6:24-26
Lord, I pray for a breakthrough in the areas of my life where I am facing challenges and obstacles. Help me to see the new things You are doing and to trust in Your guidance. That I may change my mindset and walk in the victory that you have already won for me. Amen. Isaiah 43:19
Father God, I will not fear, for you are with me; I will not be dismayed, for you are my God. Please strengthen me and help me. Please uphold me with your righteous right hand (Isaiah 41:10) In the name of Jesus. Amen.
Dear Lord, on this Thursday, I seek a deeper intimacy with You. Open my heart to know You more intimately and draw me closer to Your presence. Psalm 42:1
Dear Lord, as the sun rises this Thursday morning, I humbly come before you to seek your guidance and blessings. Grant me the strength to embrace this new day with a heart filled with hope and gratitude.
May your light shine upon me, illuminating the path ahead, and may I find purpose and joy in every step I take. Amen. Psalm 119:105
Thursday morning prayer for him
Every person faces challenges in life, and therefore, you must pray for every man in your life. Be it your husband, son, or your boyfriend, make it a habit to pray for their well-being every day.
May the light of God shine on my boyfriend/husband today. May God direct his steps into the right places so that he eventually achieves his purpose. In Jesus' name, Amen. Psalm 119:105
Heavenly Father, help [name] to rejoice in the new day You have provided and find reasons to be glad in Your creation. Amen. Psalm 118:24
Dear Lord, please bless my boyfriend/husband this morning as he embarks on his journey. Please keep him safe as he tries to pursue all his endeavours. Amen. Psalm 121:8
Lord, I pray that [name] will trust in You with all his heart and submit to Your will. Make [his/her] paths straight and grant him wisdom in decisions. Amen. Proverbs 3:5-6
Whatever obstacle he encounters at this moment, I pray that he settles and wins. May you bless him beyond measure. In Jesus' name, victory is on the way to him. Amen. Romans 8:37
Dear God, my prayer for my beautiful boyfriend/husband is that his day be full of happiness, grace, and love. Surround him with people who will care for him and guide him in the right direction. Amen. Psalm 90:17
It's a new day, and I hope that it will be a great beginning for him today. I beseech you, Lord, to make everything easy for him. Isaiah 43:19
Lord, I ask for Your protection and guidance over [name]. Keep him from harm and watch over his life in every aspect. Amen. Psalm 121:7-8
Dear Lord, please bless my beloved as he goes about his daily life. Guide his steps so that unclear things become clear. Let the Holy Spirit inspire him as he does what he needs to do today. Psalm 32:8
As you prepare to go about your day, I pray that you have everything you need to overcome every obstacle in your way. May you have a productive and successful day ahead. Amen. Philippians 4:13
Heavenly Father, help [name] to rejoice in the new day You have provided and find reasons to be glad in Your creation. Amen. Psalm 118:24
Dear Lord, as he rises and begins to go about his activities, I pray that you bring success and happiness to his day. Let your divine guidance power and strengthen him in all situations. Amen. Proverbs 3:5-6
May he win over the difficulties that are set to challenge him. Jesus, I call on you to help him walk on the right path. Grant him the strength to solve the problems in his life. Amen. Isaiah 41:13
Dear Lord, please help get rid of the sadness he may end up feeling today. He is a precious gift who deserves all the joy in the world, Amen. Psalm 34:17-18
May God bless you with everything you need to succeed this day – and henceforth. In Jesus' name. Amen. Philippians 4:19
Thursday prayer for work
Thursday prayers for work are a heartfelt moment of seeking divine guidance and strength to navigate the challenges and opportunities of the professional realm. Here are some of the powerful prayers you can make on this day.
Heavenly Father, as I begin this workday, I seek Your guidance and wisdom. May I be productive and efficient in all my tasks, and may my efforts bear fruit. Bless my work and use it for Your glory. Amen. Proverbs 16:3
Lord, I face challenges and demands in my work. Grant me the strength to persevere and the patience to handle difficult situations with grace. Help me to be a source of light and positivity in my workplace. Amen. Isaiah 40:31
Dear God, I often make important decisions at work. I pray for Your guidance and wisdom in these choices. Help me to discern what is best and make decisions that align with Your will. Amen. James 1:5
Lord, I lift my colleagues and teammates to You. May we work together in harmony, supporting and encouraging one another. Let our collective efforts bring success and blessings to our workplace. Amen. Ephesians 4:3
Heavenly Father, help me find a balance between my work and personal life. Grant me the ability to prioritize and manage my time wisely so that I can be both diligent at work and present with my loved ones. Amen. Psalm 90:17
Heavenly Father, this Thursday, I ask for your abundant blessings and opportunities to flow into my life. Open doors of opportunities that lead to success and fulfilment.
Thank you for the blessings you have bestowed upon me thus far, and I trust that you will continue to guide me through this day. Amen. James 1:5
Lord, I pray for peace and harmony among my workmates. Grant the courage to speak out against racism and bullying in the workplace. Matthew 5:9
Thursday prayer for family and friends
Praying for family and friends is essential because it strengthens the bonds of love and support within relationships. It offers a way to express care, well-wishes, and gratitude for the important people in your life.
Dear God, this Thursday, I lift my family and friends to Your loving care. Bless them with good health, happiness, and prosperity. May Your love and protection surround them always. Amen. Psalm 103:5
Dear God, I pray for healing and comfort for any of my family or friends who may be going through difficult times. May Your peace and strength be with them. Amen. Psalm 34:18
Dear Lord, I pray for the well-being of my family and friends. May Your love and protection surround them. Let them find comfort in Your peace, healing in Your presence, and strength in Your grace. Psalm 34:17
Heavenly Father, I pray for unity and love to thrive in our family and among our friends. Let our bonds be strengthened, and our relationships be filled with understanding and compassion. Amen. Colossians 3:14
Dear God, I pray for an outpouring of Your love in the lives of my family and friends. May they experience Your grace and compassion in abundance. 1 John 4:7
May the Lord be your solid rock. May He be your refreshing fountain. May the Lord be with you always. May you rise and soar on an eagle's wings. Amen.
Heavenly Father, I pray for your blessings upon my family and friends' lives. May they experience abundance and favour in all they undertake. Amen. Psalm 5:12
Lord, grant wisdom and discernment to my family and friends as they make decisions and face life's challenges. May they seek Your guidance in all they do. Amen. Proverbs 3:5-6
Loving Father, You are the giver of success; without You, our hustles are in vain. Grant my friend success in his endeavours. May he excel in all that his hands find to do, according to Your perfect will.
Lord, help my family and friends to grow in faith and draw closer to You. May they seek Your presence and find peace in their relationship with You. Amen. Jeremiah 29:13
Heavenly Father, as we gather this Thursday morning, we invoke Your presence and ask for unity and harmony among our loved ones. May Your love bind our hearts together in peace. Ephesians 4:3
Lord, I ask that You watch over the children in my family and friends' circle. Keep them safe and healthy and guide them in the ways of righteousness. Amen. Psalm 127:3
Heavenly Father, I pray for a spirit of joy and thankfulness to fill the hearts of my family and friends. May they find contentment in You, no matter their circumstances. Amen. 1 Thessalonians 5:16-18
Lord, I ask for Your guidance and protection over my family and friends. Keep them safe from harm and lead them in the path of righteousness. Amen. Psalm 121:7-8
Dear God, on this serene Thursday, we lift our family to You, seeking Your peace and joy to fill our hearts and homes. May Your presence be our source of tranquillity and delight. Philippians 4:7
Merciful Father, thank you for the friends I have experienced in my life. I pray for your grace and favour upon them. I pray that you protect their children. I pray that you protect their marriages. Protect them from the eyes of their enemies. Help them deal with their grief. Bless them and protect them from temptation.
Final word
Prayers are crucial and should not be taken for granted. If you are afflicted and discouraged, encouragement Thursday morning prayer can uplift your spirit and give you the courage to face another day.
Tuko.co.ke shared inspirational life is a journey quotes and messages. Having one perspective in life is setting yourself up for disappointments and dissatisfaction. The way to go about it is by opening yourself up to the frenzy and being prepared for anything that comes your way.
Life has sharp bends and tight paths that humanity has to pass through. But the best thing in all this is that it eventually passes, and one is set free to face yet another challenge altogether.
Source: TUKO.co.ke