Above: (image edited from Facebook)
In June, I posted about several free events/programs for young adults ages 12-18 at the Southborough Library has this summer. Some of those are in the rear view mirror, but a couple more have been added.
The following are one-time programs. Two of them require pre-registration: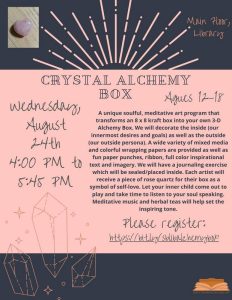 Crystal Alchemy Box
Wednesday, August 24th, 4:00 – 5:45 pm, main floor
(Register through the Recreation website here.)
A unique soulful, meditative art program that transforms an 8 x 8 kraft box into your own 3-D Alchemy Box. We will decorate the inside (our innermost desires and goals) as well as the outside (our outside persona). A wide variety of mixed media and colorful wrapping papers are provided as well as fun paper punches, ribbon, full color inspirational text and imagery.
We will have a journaling exercise which will be sealed/placed inside. Each artist will receive a piece of rose quartz for their box as a symbol of self-love. Let your inner child come out to play and take time to listen to your soul speaking. Meditative music and herbal teas will help set the inspiring tone. For ages 12-18. Limited to 20 participants.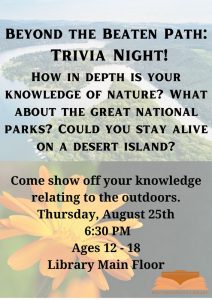 Teen Trivia Night
Friday, August 25th, 6:30 – 8:30 pm, main floor
(Drop-in, no registration required)
Are you a teen who has an in depth knowledge of nature? Could you survive if you got lost in the woods? How much do you know about this country's national parks?
Show off what you know in an evening triva night to wind down this summer's theme of exploring the outdoors.
Create a Foldscope
Tuesday, August 30th, 7:00 – 8:30 pm, main floor
(Register through the Recreation website here.)
Join the Southborough Rotary Club to create a Foldscope – a handmade paper microscope! A Foldscope is an optical microscope that can be assembled from simple components, including a sheet of paper and a lens.
For ages 12-18.
Below is a Foldscope video that shows what the devices are all about:

Library staff is continuing to run these drop-in programs until public school resumes: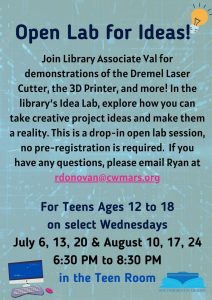 Open Lab for Ideas
Wednesdays through August 24th, 6:30 – 8:30 pm, in the Teen Room
Join Library Associate Val for demonstrations of the Dremel Laser Cutter, the 3D Printer, and more! In the library's Idea Lab, explore how you can take creative project ideas and make them a reality. (If you have any questions, please email Ryan at rdonovan@cwmars.org.)

Teen Summer Art Club
Mondays through August 29th, 2:30 – 3:30 pm, in the Teen Room
Bring your creative flair to the library's Teen Room and work on a variety of creative projects like drawing, collage, coloring, or button making!



Here's an easy way to stay up to date with Southborough happenings.